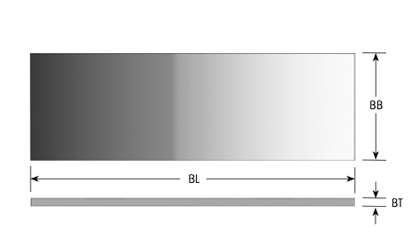 Bladveren - voor snelle levering !
Bladveren uit voorraad. Deze serie bladveren is gemaakt voor prototypes of voor gebruik met een beperkt aantal items uit bandstaal. Koop uw bladveer nu in onze online shop!
Filteren
Selectie verfijnen
Producten 1-10 van 63
Pagina
U lees momenteel pagina

1
BT


Bladdikte (mm)

BB


Bladbreedte (mm)

BL


Lengte (mm)

Art.nr.
Schematische tekening
Vergelijken
Meer Lezen
3D CAD
Voorraad
Bekijk prijzen - Voeg toe aan winkelmandje
0,10
10,00
100,00
BF1104

0,10
15,00
100,00
BF1108

0,10
20,00
100,00
BF1112

0,10
25,00
100,00
BF1116

0,10
30,00
100,00
BF1120

0,10
40,00
100,00
BF1124

0,10
50,00
100,00
BF1128

0,20
10,00
100,00
BF1136

0,20
15,00
100,00
BF1140

0,20
20,00
100,00
BF1144
Producten 1-10 van 63
Pagina
U lees momenteel pagina

1
Materiaal
Roestvrij veerhard bandstaal EN 10151-1.4310
Beschrijving
Dit aanbod van bladveren in veerhard bandstaal is ontworpen voor gebruik in de productie van prototypen of slechts enkele items die gebogen moeten worden.
Het aanbod is verdeeld in verschillende breedtes en diktes, dus kunt u allerhande afmetingen bestellen en ermee experimenteren enz. De lengte is steeds dezelfde, met name 100 mm. Lengtes tot 300 mm kunnen geleverd worden op aanvraag.
Indien u van een bepaalde bladveer een prijsopgave wenst, gelieve uw prototype dan op te sturen of een tekening te maken waarop alle dimensies vermeld staan.